Do you need ATV insurance in North Carolina? While ATVs – or four-wheelers – are loads of fun to ride, they can pose certain dangers because of their speed and the adventurous spirit of those who ride them.
Although ATVs are used for leisure activities, they also have more practical uses such as for farming and hunting. ATVs offer a great way to explore out-of-the-way places in any weather conditions while getting your adrenaline pumping.
However, all-terrain vehicles can be dangerous to riders and those around them. They are also expensive to replace and repair if damaged. Owners should invest in ATV insurance. In fact, certain places such as state parks, require you to have ATV insurance if you ride there.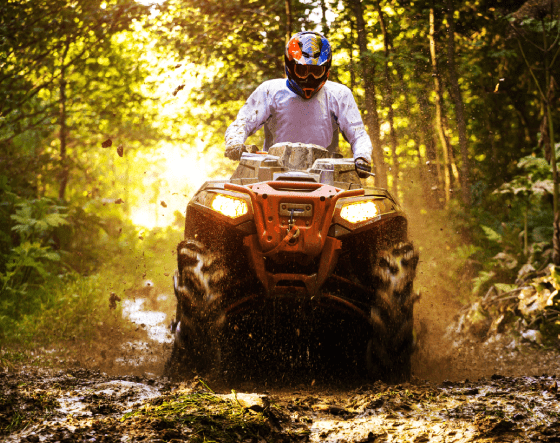 What Does ATV Insurance Cover?
Most ATV insurance agents will tell you that there are two non-negotiable aspects of an ATV insurance policy: bodily injury liability and property damage liability.
Types of coverage typically included in ATV and side-by-side insurance policies:
Bodily injury liability that pays for damages associated with other parties injured or killed in an ATV accident as well as legal fees resulting from any litigation against the policyholder.

Property damage liability pays for damage an ATV driver causes to another person's property – fixed or moveable. There is a claim limit equal to or lower than the per-person limit of the policy's bodily injury liability cover.
Coverage that is optional for purchase:
Medical payments coverage covers medical expenses incurred by riders of your ATV. It will cover surgery, X-rays, hospital stays and even ambulance transportation.

Uninsured/underinsured motorist coverage will cover when someone riding your ATV is injured by someone who is not insured or is underinsured. Uninsured/underinsured coverage for ATV insurance has claim limits per individual and per accident.

Collision coverage will pay for the repair of damage to your ATV caused by a collision with another vehicle or even if it overturns. The insurer will cover up to the value of the ATV less the policyholder's deductible. Generally, policyholders select their own deductible. If an owner wants to keep premiums low, they might forego some of these optional extras. If an ATV is financed through a bank or lending institution, collision coverage may be mandated.

Comprehensive coverage pays for damage or loss not caused by a collision with another vehicle such as theft, vandalism, flooding, earthquake, fire and more. Comprehensive coverage also has a deductible.
Note that your homeowner's insurance does not cover ATV theft but may cover ATV accidents that occur on the insured premise.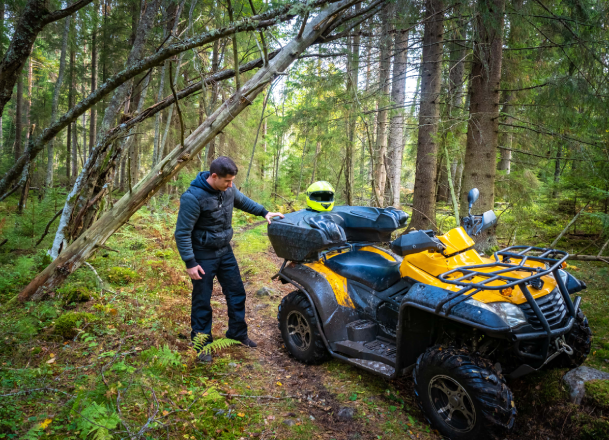 The good news is that ATV insurance coverage is cheaper than motorbike insurance because they don't drive on roads or highways, and they generally do less mileage and lower speeds.
Your ATV insurance quote depends on several variables: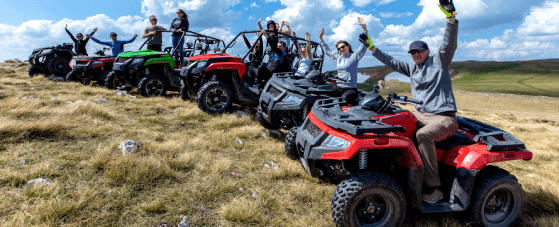 How many ATVs you are insuring

What other policies are active, such as homeowners' or renters' insurance or even another auto policy

Age of the regular driver (younger drivers are considered higher risk)

Does the ATV have an anti-theft device installed?
While private property does not generally require riders of ATVs to carry bodily injury and property damage liability insurance, many state-owned lands and parks allow ATVs only if riders have ATV liability insurance.
ATV rental insurance is available for owners of businesses that rent ATVs to other people. The ATV rental business has a lot of inherent risks, so it is important to have the optimal insurance coverage for your vehicles and the people who ride them.
North Carolina boasts miles of scenic ATV trails. Enjoy exploring, content that an experienced ATV insurance company has your back! Contact Tom Needham Insurance Agency for a quote to cover all your ATV insurance needs.

Tom Needham Insurance Agency – Offering You Better Prices and the Best in Service!