In the excitement of starting your adventure as a nomad, the last thing that may cross your mind is RV insurance. But before you can hit the road in your recreational vehicle, it is important that you know all the facts.
Do I Need RV Insurance?
This is a question answered by  many  RV insurance agents in the United States. What complicates the issue is that every state has its own set of laws, for example, New Hampshire and Virginia do not mandate insurance for RVs and motorhomes.
As a North Carolina resident, however, you are required to have recreational vehicle insurance if yours is drivable. RVs that are towed, such as fifth wheels, pop-ups, and travel trailers, are typically covered by liability insurance of the vehicle doing the towing. But when an RV has its own motor and a steering wheel, like a motorhome, then a minimum amount of liability protection is mandatory to pay for losses suffered by third parties in accidents where you are at fault. Note that these insurances do not extend to the costs of your own injury or property damage.
The State of North Carolina also requires uninsured or underinsured motorist coverage to protect you if a driver who damages your RV does not have (sufficient) insurance coverage.
What's more, if you have financed or leased your RV, the lender will most likely require you to carry a full coverage policy. Finally, RV rental insurance is needed if you plan to rent an RV for a quick getaway.
What Does RV Insurance Cover?
Legislation aside, consider the RV price tag of around $35,000 to $300,000. Then bear in mind that physical damage to your recreational vehicle is not covered by either your auto insurance or your property insurance. Add to that the risks associated with RV travel specifically, and it stands to reason that insuring your RV is a smart move if you want to avoid ruining your escapades with costly mishaps.
RV insurance varies depending on whether your RV is used for road trips or as your primary residence.
Part-time RV insurance, or recreational insurance, can include cover for damages, liabilities, and accidents that happen on the road or parked at a campsite during short-duration trips.
Full-time RV insurance includes coverage needs that are unique to those whose motorhome or travel trailer is used as a permanent residence (generally classified as 150 days or more). It includes coverages as above, but usually at higher limits and with the option of added coverages like personal liability and loss assessment.
Optional RV coverage includes: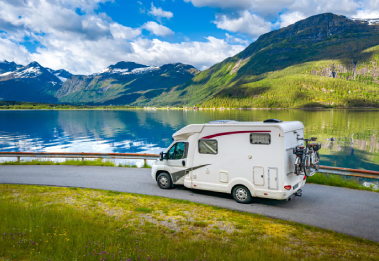 Towing and roadside assistance

Custom equipment and personal effects

Vacation liability RV insurance offers liability insurance if someone is injured in or near your RV when you are parked rather.

Emergency expense coverage in the event that your RV is unusable because of a covered incident.
How Much Is RV Insurance?
Another frequent question, "Is RV insurance expensive?" has an answer that depends on various factors. RV insurance rates are based on:
Class A /motorhomes are the largest at up to 75 feet long, boast the most features, and are the most expensive.

Class B /campervans are smaller and easier to maneuver than Class A types and typically have a raised roof.

Class C / mini-motorhomes or cabovers provide a mid-range option between Class A and Class B.
Tom Needham Insurance Agency – Offering You Better Prices and the Best in Service!