Personal watercraft insurance is one of the boring but necessary aspects of having fun on our local lakes and other waterways.
PWCs (Personal Watercraft) – widely known by the brand names Jet Ski, Sea-Doo, and Wave Runner – are small, fast, easily handled, and fairly easy to use. These are some of the reasons why they are preferred for non-recreational use over small motorboats. For the most part, however, they are simply a boatload of fun for skimming across the water, fishing from or even towing water skiers.
The modern Jetski, Sea-Doo, or Wave Runner has advanced exponentially from the early stand-up machines of the 1970s. The concept remains the same, but the progress has been staggering. Today's PWCs can be expensive, so damaging one could be the end of the fun times for you. Therefore, covering your personal watercraft with premium insurance should be a priority.
While jet skis are huge fun, they also pose a potential but serious danger to operators and other people in the water. Due to the high speeds at which they run, a jet ski accident could result in serious injuries and even death.
What is Watercraft Insurance?
Watercraft insurance – an umbrella term covering three types of insurance: boat insurance, yacht insurance, and personal watercraft insurance – protects against damages to vessels powered by a motor with at least 25 mph horsepower. Incidentally, these surface-skimming craft can have engines with horsepower from 40 mph up to 70 mph. Watercraft insurance policies' coverage includes physical loss or damage to the boat, theft of the boat, and towing.
Insurance is required if you rent PWCs or live in a state that requires minimum liability insurance limits. If you finance or lease your PWC, your bank or lending institution will require insurance on the vehicle.
Your PWC may be insured under your homeowner's policy. If this is the case, it is possible that it may not be properly protected. It is best to customize your policy to fit your individual needs, being specific about what kind of PWC you own and what activities you enjoy.
It only takes a moment to realize your need for personal watercraft insurance. You may think you don't need coverage if you use your PWC seldom, but the truth is that you are at risk every time you use your PWC – and even when it is not in use. You need to protect your asset.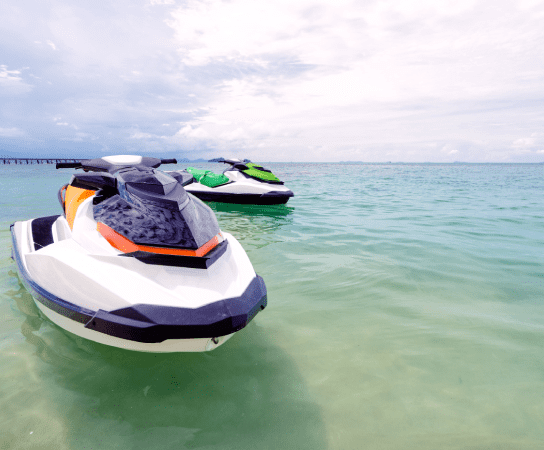 How Much Will My PWC Insurance Policy Cost Me?
Some of the factors that might influence a Jetski insurance quote include:
Year, length, make and model
What purpose it is used for

Owner's claims history, credit, and accident history

Regular user attending a PWC safety course
Certain policies offer watercraft liability coverage for bodily injury to people using the vessel by themselves, and medical payments for injury to the owner and their family. With some policies, however, liability coverage is sold as an add-on.
Personal watercraft, like Sea-doo, insurance covers the owner and other people the owner allows to use the craft for risks such as:
Bodily injury to another person

Bodily injury to you caused by a watercraft operator who is uninsured

Liability such as legal costs if you're sued due to an accident

Property damage to another watercraft or even a dock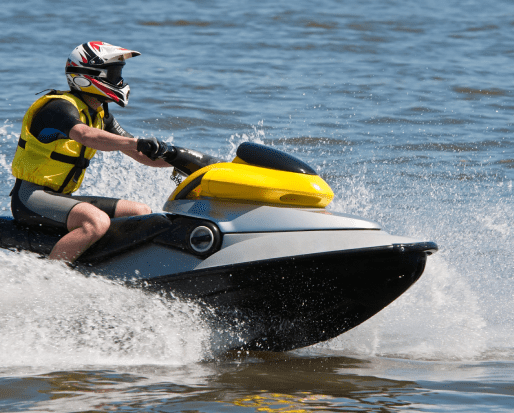 What is Jet Ski Rental Insurance?
In North Carolina, PWC insurance, RV insurance coverage, boat insurance, ATV insurance, golf cart insurance etc. can cover your items in the event of physical damage, vandalism, theft, and collision. In addition, your policy may allow for reimbursement of personal effects stored on a vehicle such as an RV, boat, or motorcycle. Your insurance may also provide coverage for medical expenses and liability coverage.
For more information on the best way to mitigate the risks associated with PWC fun, get in touch with Tom Needham Insurance Agency for a personalized personal watercraft insurance quote.
Tom Needham Insurance Agency – Offering You Better Prices and the Best in Service!