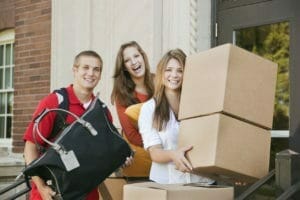 If you're getting ready to send your child off to college for the first time, you've no doubt got plenty to think about and to do before the big day. One thing you may have forgotten to consider but will definitely want to tick off your list is protecting yourself and your college-bound child from financial loss due to the theft, damage or destruction of their personal property. Adding up the value of his or her personal possessions, you may be surprised at the total cost of replacing these things, such as:
Clothing
Computer(s)
Smart phone
Audio sound system
Bicycle
Sports gear
Camera
Musical instruments, and more
What Coverage Do You Need?
You may not be aware of this fact, but in many cases your Greensboro Home Insurance policy may include coverage for your college student when living in an on-campus dorm. This coverage typically includes loss or damage to your son's or daughter's possessions but also any liability for which they may be accused of having to do with their dorm life.
Since every homeowner's insurance policy is unique, it's important to read and understand what coverage is provided through your specific Greensboro Home Insurance policy and consult with your insurance agent or broker if you have questions or are unclear about any parts of your coverage.
Although many (or most) homeowners' insurance policies may provide protection for their child living in a college dorm, there will almost certainly be dollar limits imposed on that coverage. Liability limits may be the same as those provided for your home, but dollar limits for contents protection may be only a fraction of the amount allowed for your home's contents – say 10%.
Alternative Coverage
If your homeowner's policy does not extend coverage to your college student's dorm room, you have the option of dorm insurance, which is quite affordable but not available from all insurers. If your child is living off-campus in an apartment or house, there may possibly be protection afforded them through your Greensboro Home Insurance policy but this isn't something typically found in homeowner's coverage. You'll have to check your policy.
The best alternative for insurance protection in this case would be a renter's insurance policy. These are also inexpensive policies, widely available on the market, and can provide protection for loss, damage or destruction of personal possessions located in the student's rental home and also protection from liability.