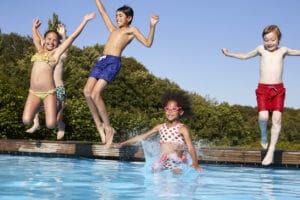 Your Greensboro home insurance policy covers your swimming pools in a couple of ways:
Your pool is covered if it gets damaged or destroyed by any of the covered perils listed in your policy
You're protected against liability suits stemming from someone (other than family members) getting injured or killed as a result of an incident involving your swimming pool
Your homeowner's insurance typically helps pay for the repair or replacement of your swimming pool if it's damaged or destroyed by things such as fire, hail, vandalism, wind, falling objects, explosion, lightning strikes and more. Claim amounts allowed are up to the limits detailed in your policy. Bear in mind that there is most likely an exclusion in your Greensboro home insurance coverage for damage caused by water freezing in your pool, so make sure to drain it after swimming season, before the cold weather sets in.
Pool Types Matter
Coverage for your swimming pool will most likely depend on what type of pool you own. If it's an in-ground or permanently installed above-ground pool, most policies will have it covered under the "other structures" portion of the contract. For portable-type, above-ground pools that can be moved when relocating, most policies will cover these under the personal property portion of the policy.
Swimming Pool Liability Concerns
According to the Insurance Information Institute (III), the years 2005-2014 saw an average of more than 3,500 fatal drownings per year in the U.S. If you're installing a back-yard swimming pool or hot tub, it'll be just one more added to the approximate 7.5 million pools and five million hot tubs in the country.
To your homeowner's insurance company, these recreational additions to your home are considered "attractive nuisances." They may be enjoyable and turn your home into the neighborhood oasis, but they also significantly increase your home's liability risk.
Your standard Greensboro home insurance policy typically has liability limits of $100,000. The III recommends increasing the liability limit of your policy to $300,000-$500,000 if you own a swimming pool. These limits should be increased even more if your assets so warrant. They further state that you might want to consider taking out an umbrella policy, which gives you additional liability coverage over and above your homeowner's liability coverage. Your trusted insurance agent can help you determine how much coverage you should have to protect your assets from a liability suit regarding your pool.