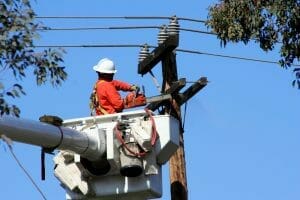 Nobody appreciates a power outage affecting their home but, unfortunately, according to statistics from the Department of Energy, Americans suffer more blackouts than those in any other developed nation. Although these power outages may be relatively short in duration, sometimes they're long enough to cause loss or damage to your refrigerated and frozen foods. The question as to whether or not your homeowners insurance will cover such a loss isn't one that can be easily answered. The actual answer lies in your insurance company's rules and, more precisely, in the terms of your specific homeowners insurance policy. Make sure to carefully read your policy and, if you have any questions, to ask your agent for clarification. Here are some general guidelines to consider:
According to the Department of Agriculture, foods kept in your refrigerator such as fish, meat and poultry should be thrown out after being exposed to temperatures greater than 40°F for more than two hours. Other refrigerated foods are usually good for at least fours hours. Not opening the refrigerator or freezer doors during an outage can help food stay colder longer. Frozen foods may last for as long as 48 hours in an unopened freezer.
Many homeowners policies will cover a loss from food spoilage but many require that the power outage originate on your premises and not be a widespread outage. If your homeowners insurance does cover off-site power outages, typically they must be caused by a peril covered in your policy, such as a fire or hurricane, and not something excluded, such as a flood or earthquake. You may be able to add an endorsement to your coverage for a small cost that will cover food spoilage from any power outage.
Often limits on food spoilage claims are between $250-$500 and, by the time you pay the required deductible, filing a claim for spoiled food alone may not make sense. If the loss for food can be added to other damages or loss to your home from some covered peril, then it does make sense.
It's not necessary to save the spoiled food as proof for a claim, but taking a picture, if possible, is a good idea.
Contact your power company to determine if they will reimburse you for your spoiled food costs or for your insurance deductible.
As always, read your policy for applicable details, and contact your agent with any unanswered questions.