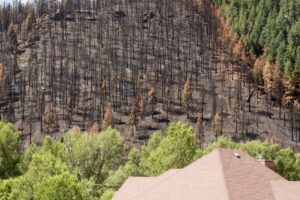 You may have heard the term, "hazard insurance," and wondered exactly what that is. In fact, hazard insurance is part of your homeowners insurance policy rather than a type of insurance by itself.
Standard Greensboro Homeowners Insurance
Your standard Greensboro homeowners insurance policy provides protection against financial losses having to do with your home. Basic types of coverage include:
Coverage for damage or destruction done to the structure of your home as a result of any of the covered hazards (perils). This typically extends to other structures on your property such as a fence, a shed, a detached garage or a gazebo.
Coverage for damage or destruction of your personal property inside the home. This includes your appliances, electronics, furniture, clothing and everything else in the home that's not an actual part of the home. This may or may not be considered as part of your hazard insurance, depending on the specific policy.
Other sections of your homeowners insurance that are not considered hazard insurance include liability coverage and additional living expenses. Since these aren't concerned with dwelling damage, they're not defined as a part of your hazard insurance.
Although both coverages can generally deal with large-scale natural disasters, because hazard insurance is usually a sub-section of standard home insurance, there are several types of events often not covered. These include:
Earthquakes
Floods
Sinkholes
Landslides
If you're a homeowner at risk of being subject to any of these natural disasters not covered by your standard home policy, you may want to consider taking out a separate policy to cover these specific hazards. Sometimes insurers will refuse to write coverage for a homeowner located in an area known to see frequent disasters. Some examples may be a home:
Located near a shoreline where hurricanes often occur
In the mountains where heavy snowfall is common in winter
Near forested areas where wildfires are prevalent
Located near a fault line in danger of experiencing earthquakes, sink holes, landslides, etc.
In these cases, since your standard home insurance protection likely won't cover these hazards, a separate hazard policy is recommended to add more comprehensive protection to your property. When you're buying protection to cover the destruction of your home, make sure you buy enough to completely rebuild the home in the event that it's totally demolished. This shouldn't be confused with the actual market value of the home at this time.