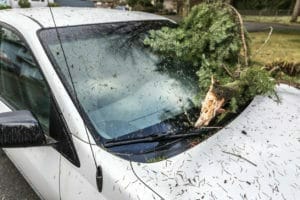 If you're unfortunate enough to be victim to a tree falls on car scenario, you'll undoubtedly be wondering who pays for the damage. Maybe you think your homeowner's insurance will be the one to pay the claim, in which case you'd be mistaken.
Yes, your homeowner's insurance comes into play if a tree falls on and damages your house or other structure on your property. If, however, a tree falls and damages your vehicle, it's your car insurance that would cover that claim. It doesn't matter whether the tree was in your yard, in your neighbor's yard or somewhere else like in the park. For your car to be covered for this type of incident, though, you must have opted for the comprehensive coverage offered with your policy.
What Car Insurance Coverage Do You Need?
If you've only taken out the minimal car insurance required by law here in North Carolina, 30/60/25 liability coverage, the tree falls on car situation won't play out well for you. You need comprehensive coverage to pay this claim. If your car is being leased or financed, you likely have comprehensive coverage because the lender will require it to cover their financial exposure. Otherwise, comprehensive coverage is not required and you must specifically opt for this to be part of your auto insurance policy.
Interestingly, if a tree has fallen across the road and you run into it and damage your vehicle this will also be covered by your auto insurance policy but only if you chose the collision option to be added to your coverage. A falling tree or tree limb is considered to be "an act of God" by insurance companies, and is covered by your comprehensive coverage. A fallen tree that you run into is considered a collision and comes under the collision portion of your car coverage.
An Important Exception
If your car is sitting in your driveway and gets clobbered by your neighbor's falling tree, the claim still falls under your car policy's comprehensive coverage, if you have it. An exception is if the neighbor who owns the tree is found to be at fault for allowing the tree to fall. An example is in the case of a dead tree that you previously warned your neighbor was at risk of falling and causing damage to your property. If found at fault, the neighbor's homeowner's insurance may pay that claim.