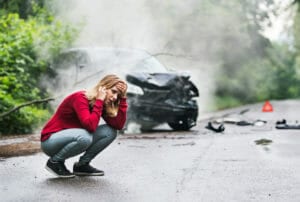 If you carry the minimum amount of Greensboro car insurance required by NC State Law and your car gets totaled, the amount you can expect to receive from your insurance company is easy to figure. The answer is zero. The liability coverage you've been carrying is only designed to help pay for losses suffered by other drivers involved in an accident for which you're deemed liable. It may also pay for property losses others suffer due to your fault.
If your car is totaled in an accident that's not your fault, the other driver's liability coverage should come into play to help cover your loss. One sure way to ensure that you're protected for loss from an accident that totals your car is to have collision coverage as part of your Greensboro car insurance policy.
If, however, your parked car is crushed by a falling tree, your collision protection won't help. To be covered for this type of accident you must have comprehensive coverage as part of your policy coverage. Obviously, the best protection includes liability, collision and comprehensive.
What's a Total Loss?
A car is normally considered totaled if, according to your insurance company, the cost of repairs from accident damage exceeds the cash value of the vehicle. In order to determine the car's actual cash value, your insurer will likely use several factors such as the car's age and odometer reading, its condition and approximate resale value before the accident and the average selling price in your area for similar vehicles.
What To Do in the Event of an Accident
If you're involved in a car accident you'll want to notify your insurance company as soon as possible. If you can call them from the scene of the accident they may be able to send someone out right away to investigate.
Once you've filed a claim and they notify you that your car is totaled they should settle for the actual cash value minus your deductible amount if you're covered for the loss. If you're making car payments on a car loan, you'll have to pay the outstanding loan balance with the insurance proceeds.
Typically, insurance companies will make the check out to both you and your lender, who will divide up the funds. If the outstanding loan is greater than the claims payment, you'll have to make up the difference out of pocket.