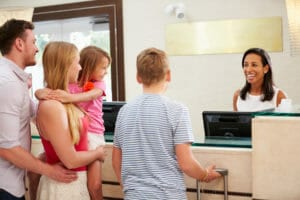 A standard Greensboro homeowners insurance policy contains three primary types of protection:
Dwelling Protection – helps cover losses resulting from damage /destruction to your home's structure, usually including other structures that are attached to the house such as a deck or a garage. Most policies also cover "other structures" not attached to the house, such as decks, fences, sheds and detached garages.
Personal Property Protection – helps cover losses resulting from loss, damage or destruction of the personal property kept in your home. This includes loss from covered perils such as fire, wind, hail storms or vandalism and also from theft, even if your property is stolen from your hotel room while away from home.
Liability Protection – helps cover losses resulting from someone who's not living with you getting injured while on your property. This may even cover you if your dog gets loose in the neighborhood, bites someone, and they take you to court.
Loss of Use                       
Most Greensboro homeowners insurance policies also cover you for something called "loss of use." This is also referred to as Part D Coverage or ALE (Additional Living Expenses). This is protection that reimburses you, the policyholder, for additional living expenses incurred if your home has become uninhabitable due to a covered peril. Expenses for which you may be reimbursed may include hotel bills, food purchases, fuel expenses, etc.
Loss of use coverage may also pay reimbursement for lost rental income if the claim being made is on a rental home. In addition, if the renters living there have a renters insurance policy, chances are good they can collect loss of use reimbursement if they're unable to live in the home while it's being repaired or rebuilt.
Coverage Limits
Most standard homeowners insurance policies will have limits on the amount of loss of use expenses they will pay. Typically, these limits will be between 20%-30% of the amount of your dwelling coverage limit. These limits may be found on your policy's Declarations Page, where they may be labeled "Coverage D." Some insurers, however, offer an unlimited amount of loss of use reimbursement.
In order to qualify for loss of use reimbursement, the event that caused you to flee your home must be a covered peril. A pest infestation that causes you to move to a motel during extermination would typically not qualify, since pest infestation is probably not covered in your policy.