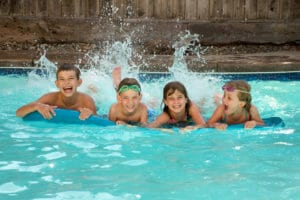 If you're wondering whether or not your Greensboro home insurance policy covers your in-ground swimming pool you can breathe a sigh of relief because the answer is "yes," you're most likely covered. Of course, every insurer's homeowner's policies are different, so the best idea is to get together with your local Greensboro home insurance broker to discuss just exactly what your specific policy does and does not cover.
Whether you already have a swimming pool on your property or are planning to install one, you should let your insurer know and factor in the cost of fixing or replacing a damaged pool should something happen such as a tree falling over into it. Most homeowner's policies cover a backyard swimming pool as "other structures" and typically limit claims amounts to 10% of the amount for which home itself is covered. This is the property coverage component that applies to your in-ground pool.
The Highest Risk
Since swimming pools can represent significant risk to a homeowner, it's important that you consider your liability exposure and ensure that you have enough coverage to deal with any potential liability claims. Most home insurance policies have dollar amount limitations on liability claims, typically $100,000, but the III (Insurance Information Institute) recommends that these limits be increased to $300,000 or even $500,000. If someone gets injured while using your backyard pool, such as diving into shallow water and breaking their neck, the medical costs and liability lawsuit can add up to many hundreds of thousands of dollars. To obtain an additional level of liability protection, experts recommend homeowners with pools take out a PUP (Personal Umbrella Policy), that will cover losses above and beyond what your home insurance policy pays for. These umbrella policies kick in once your other coverage has been exhausted and are typically written for $1 million or more.
Temper The Risks
Backyard swimming pools can be great fun for the family but they need to be kept safe, especially from others in the neighborhood. A tall fence with a self-closing, latching/locking gate is imperative to keep intruders out and a pool cover can be used at night to keep animals from falling in the water. Strict rules should also be enforced, such as:
No diving in shallow water
No running
Users should know how to swim
Adult supervision is required at all times
Appropriate rescue devices and first-aid kit readily available