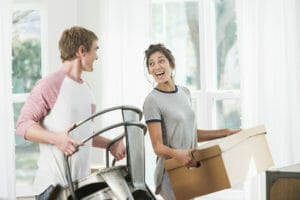 Many Greensboro area tenants may be unaware of the importance of having Greensboro renters insurance when renting their living accommodations. This is not unique to North Carolina, as national statistics reveal that, nationwide, less than 40% of renters have renters insurance, otherwise known as tenant's insurance. Compare this with the number of homeowners with homeowner's insurance which, according to the Insurance Information Institute (III), is about 95%.
Experts agree that the reason so many renters remain unprotected is because they're operating under a number of misconceptions regarding this important coverage. In order to clear up these misunderstandings, we'll take a moment to separate Greensboro renters insurance myth from fact.
Myth #1
My landlord's insurance coverage will also cover my possessions.
The Facts: This is a typical belief among renters – that their landlord's policy also protects all the home's contents. Your landlord's coverage applies only to the dwelling itself. A fire, for example, that burns down the house where you're living will be covered for restoration of the building but pays nothing toward replacing your personal property, such as clothing, electronic equipment, furniture or any other personal possessions you lose in the fire.
Myth #2
Renters insurance is too expensive to buy.
The Facts: Typical renters insurance costs $1 per day or less. When you total up the value of all your possessions, chances are you own items worth $30,000 or more. Imagine having to replace all of these items out of pocket.
Myth #3
Renters insurance only covers loss of personal possessions.
The Facts: While it's true tenants insurance covers personal possessions lost, damaged or destroyed from fire, theft, vandalism, lightning, explosions, storm damage and more, it may also pay for loss of personal property, such as a camera or laptop, that occurs outside the home. In addition, this insurance provides liability coverage in case someone is injured while in your home, including help with the payment of medical bills and legal costs if you're taken to court. You'll also be covered if, for example, you're living in a second floor apartment, you accidentally allow your bathtub to overflow and damage is caused to the apartment below you.
Myth #4
My roommate already has insurance coverage.
The Facts: Most tenant insurance policies will only pay on claims related to the named policyholder's possessions or liabilities.
Greensboro renters insurance is affordable and is certainly worth serious consideration. Protect yourself!