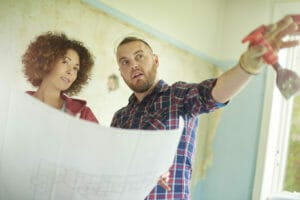 If you're getting ready to undergo a home renovation, you've no doubt plenty to put on your to-do list before starting. This typically includes ideas like what kind of changes you'll be making, who'll be responsible for the design and construction phases, choice of materials, budgeting and dozens of other items.
Something you may not think to put on your list is a consultation with your insurance representative to find out how the home remodel will affect your Greensboro home insurance coverage. A home renovation will likely affect the value of your home, perhaps significantly, and may also bring with it certain liability issues. If it changes the structure or the use of the property it can change your Greensboro home insurance coverage needs. It's important for you to find out, and the best way to do this is to talk to your home insurance provider.
It Could Go Either Way
Certain home improvements will boost the value of your residence and, unless you update your current coverage to ensure it's adequate, you could come up short if you suffer a major loss and the claim you file isn't fully reimbursed. On the other hand, some upgrades may actually qualify your home for any number of discounts, thereby lowering your current insurance costs. The only way to find out is to discuss the matter with an insurance professional.
While you may not consider it a remodel, putting on a new roof is definitely a home improvement and could lower your insurance costs. The roof is a huge factor affecting your insurance policy since losses can occur from rain, hail, wind, snow and ice.
Adding a swimming pool to your home affects your insurance risk significantly. Not only does it increase your home's value, it increases your personal liability exposure exponentially. You'll definitely need a policy upgrade.
Adding new living space to your home, whether an attic or basement conversion or a room addition, will add value to your home that must be declared if it's to be properly covered on your home insurance policy. The same goes for kitchen/bathroom upgrades that add value to your property.
If you're hiring a contractor for your remodel, make sure they have sufficient liability and workman's comp insurance. If it's a DIY project and you've got friends and/or relatives involved, you may need extra liability coverage on your policy. Consult your insurance representative.