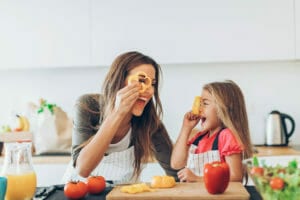 As a stay-at-home parent you might think that, since you're not bringing home a paycheck, there's no need to carry life insurance. This assumption could not be further from the truth. The jobs you handle at home are extremely important, especially with kids involved and, were you to be suddenly taken out of the picture, outsourcing the care of the things you accomplish on a daily basis at home would be both difficult and expensive. Consider having to hire a(n):
Academic Advisor
Bookkeeper
Buyer
Chauffeur
Chef
Day Care Provider
Dietician
Housekeeper
Laundry Specialist
Maintenance Manager
Psychologist
Recreational Director
Tailor
Tax Accountant

These are just some of the jobs for which you may be responsible in your home. A recent study completed by Salary.com found that the equivalent annual salary for a stay-at-home mom, if these activities were being done by outside professionals, would total in excess of $162,000 per year. This speaks volumes about the need to protect this equivalent income with life insurance to pay out the needed funds if your family suddenly finds itself without your "free" homemaking services.

How Much Life Insurance is Enough?

Before you can accurately calculate how much life insurance you need to carry on the stay-at-home parent in your family, you'll need to discuss what life would be like without that family member. No one likes to talk about the death of a spouse or parent but it must be done in order to consider what those surviving family members will require. Determine what activities will need to be outsourced, such as childcare and housekeeping for example, and which can be handled by the surviving parent.

There are plenty of single-parent families where the breadwinner holds down a full-time job while also finding time to clean the house, cook the meals, run the kids to soccer practice or ballet lessons, make appointments and school lunches, etc. The idea behind having stay-at-home parent life insurance is so that the surviving family's same standard of living can continue and money will be available for funeral costs, to pay off outstanding financial obligations to save interest fees and hire the help needed to run the home.

The amount of insurance you need will depend on the size of your family, the amount of your outstanding debts (including mortgage), goals for children's education and more. For most families, between $1-$2 million in term life would be appropriate.