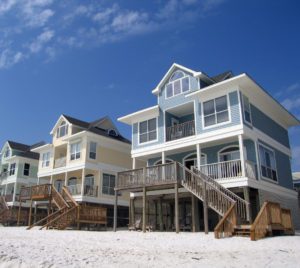 If you either own or are considering the purchase of a second home, you may have questions about what insurance you'll need for that second home. If you're like 90+ percent of U.S. homeowners, you already have homeowner's insurance for your primary residence. Getting insurance for your second home will be similar as it was for the first, with the main concerns being to protect your investment and financial assets.
What's the State of Your Second Home?
The disposition of your second home will have a lot to do with what insurance you need. Here are some basic scenarios:
Your second home is a vacation home, only occupied occasionally during the year and vacant the rest of the time. In this situation, you will likely need a homeowners policy similar to the one you carry on your primary residence. This policy may be more expensive than your primary home policy since your insurer may view a home only seldom occupied as a higher risk for fire, theft and other perils.
Your second home is a vacation home you use occasionally and rent out to others when you're not using it. You may need landlord insurance or short-term rental insurance for proper coverage.
Your second home is vacant and on the market for sale. You may need vacant home insurance to protect yourself financially.
Coverage For Your Second Home Insurance Policy
Second home insurance policies can often be somewhat limited in their coverage and typically include only named perils, such as fire, theft, hurricanes and wind damage. If your second home is near a body of water, you may want to consider adding flood insurance to your coverage, since flood damage is typically not covered in a standard homeowners policy. Homes in areas where there's an earthquake potential may indicate the need for earthquake coverage, also not generally included as part of standard homeowners insurance policy.
While second homed insurance may be more expensive than your primary residence home insurance, there are ways you can reduce the bill. One way is to make sure to bundle the second policy with the same insurer that wrote the first. This could give you a discount of up to 10% or more on your premium cost.
You also take extra precautionary measures to help secure your vacation home such as:
Off-site monitored security and fire alarm system
Smart locks and other smart home devices