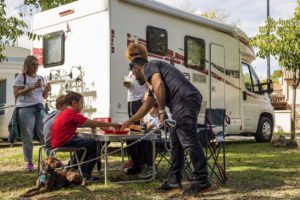 Recreational vehicles, or RVs, have become increasingly popular and they can be seen on the roads all over North Carolina. The generic term "recreational vehicle" can be applied to numerous types of conveyance, including:
Motor homes (Class A, B or C) or coaches
Camper vans
Caravans
Popup campers
Truck campers
Trailers
Fifth-wheel trailers
You can also add to this list various sport vehicles used for recreational purposes such as dirt bikes, quads, sand dune buggies, etc., but in most cases, an "RV" will be considered a vehicle meant for driving on the road and featuring living accommodations including beds, kitchens, bathrooms and other amenities.
RV Insurance
RVs can be further broken down into two groups: those capable of being driven on the road and those without engines, requiring external power for travel. Travel trailers or fifth-wheel trailers are an example of this, needing to be attached to a motorized vehicle to be moved.
The type of RV you own will help tell you what kind of RV insurance you should get. If your RV has an engine (and a steering wheel), you're required by North Carolina state law to have at least a minimum amount of bodily injury liability and property damage liability coverage on your vehicle. The minimum requirements are the same as for any motorized vehicle driven on North Carolina's public roads:
Thirty thousand dollars bodily injury liability coverage per person per accident
Sixty thousand dollars bodily injury liability coverage for all persons per accident
Twenty-five thousand dollars property damage liability coverage per accident
Thirty thousand dollars uninsured/underinsured liability coverage per accident
These minimal amounts of liability coverage required by NC law for motor homes are significantly lower than would be needed for an accident of any significance. Experts agree that you should increase your protection many times over. Many say you should carry as much liability coverage as you can comfortably afford. For RVs without engines, liability coverage is not required by law since the liability protection covering the towing vehicle should also cover the RV.
Additional Coverage
Some of the optional coverage available for your RV may be required if you're financing its purchase or leasing it. Even if you own it outright, you may want to consider such options as collision and comprehensive coverages, and the more valuable your vehicle the more you probably need these optional protections. Check out this list of protections available.