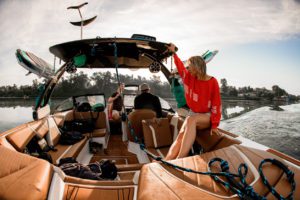 Watercraft insurance is something that just about every boat owner should consider carrying to protect themselves from financial loss relating to their watercraft. While it may not be required by state law, quality watercraft insurance can save you from suffering huge financial losses both on and off the water should you run into problems with your boat or personal watercraft. If you're paying on a loan for your watercraft or if you keep it moored at a marina, you'll likely be required to be covered by a certain amount of boat or yacht insurance.
Watercraft Insurance Types
There are three basic types of insurance for watercraft:
Coverage for boats, typically 26′ or less in length
Coverage for yachts
Coverage for personal water craft (PWC) such as Sea Doos or Jet Skis
Your watercraft policy may be either named-peril or comprehensive. Named-peril covers your craft only for the perils specifically listed within your policy and may potentially leave out many things that could otherwise happen to your boat or yacht. Comprehensive policies are more inclusive in their coverage and, though typically more expensive to purchase, provide a higher level of peace of mind.
Unlike standard homeowners insurance or automobile insurance policies sold in North Carolina, boatowners and yacht insurance policies are not standardized and may be written specifically for your individual needs. Most policies typically cover physical damage to your craft, liability and medical payments but may also include other add-ons for more comprehensive protection. This may include coverage for:
Damage to someone else's boat, dock or other property
Bodily injury or death for which you're deemed responsible
Injury to you or any of your passengers that's caused by a boater without insurance
Medical payments for your injuries or those of your passengers
Coverage for your boat trailer for damage or theft
Boat theft
Removal or towing of a wrecked boat and cleanup of debris including fuel spills
Damage or loss of your personal property, including supplies and possessions on your boat such as electronics, fishing or diving equipment, skis, etc.
Watercraft Coverage on Your Homeowners Insurance Policy
Some boat owners may believe they don't need insurance coverage for their watercraft because it's already covered within their homeowners insurance policy. Some home policies may provide a degree of protection but it's usually limited to boats with 75 horsepower or less and typically covers liability only. Read your policy to be sure.