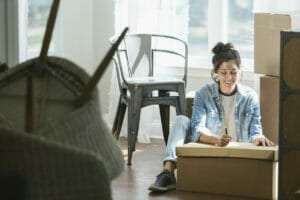 If you caught the national news recently where victims of the California wildfires were being interviewed, you heard some harrowing stories of property loss. Of all the tales told, most disturbing were those of renters who lost everything in their homes without the benefit of having renters insurance to help cover the costs of the losses.
Who Has Insurance?
According to statistics compiled by the Insurance Information Institute (III), approximately 95% of the homeowners in the U.S. carry a homeowners insurance policy, while only about 37% of those renting their homes carry renters insurance. Some renters may falsely believe that the personal property they have in the home where they live is covered by their landlord's insurance coverage, which is not the case. Your landlord's insurance coverage is designed to protect his or her losses in the event of a claim. If you don't have renters insurance and your domicile burns to the ground you may lose everything, with replacement costs coming strictly out of your own pocket!
Besides the fact that you absolutely should have a renter's insurance policy – remember, it's better to have it and not need it than to need it and not have it, especially at such an affordable cost – here are some things you might not have realized about renter's coverage:
Not only does your renters policy cover the personal property in your home but may also cover possessions outside of the home. Examples may be a laptop stolen from your hotel room, your bicycle stolen from a bike rack or your purse or briefcase stolen from your car.
You can add additional coverage to your base policy to cover high value items like art, jewelry, coin or stamp collections, furs, etc. This provides peace of mind that you're covered beyond the basic limitations imposed within most policies.
Your renter's insurance policy covers more than just your stuff – it covers you, too. If someone is injured in your home and sues you for liability, your policy should help with your defense and any damages. This may even extend to your pets, such as if your dog bites a neighbor or visitor to your home.
If your rental home is rendered unlivable due to water, smoke or fire damage, your policy may pay toward temporary living expenses.
As always, check with your agent for policy specifics.