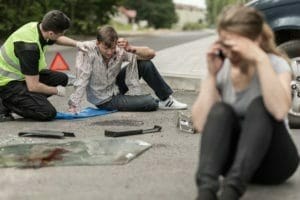 Car insurance is not only a necessity for driver protection but also a legal requirement in all but one U.S. state, including here in North Carolina. The law requires only a minimum of liability coverage, which is designed to protect others who suffer losses due to your negligence. The amount of coverage provided by a liability car insurance policy is expressed as three numbers, such as 30/60/25, which is the minimum amount of liability coverage required by law in the state of North Carolina. They apply to the thousands of dollars that may be paid in a liability claim for a single accident in these three areas:
Bodily injury suffered by a single person
Bodily injury suffered by all persons
Property damage suffered
In addition to the required amount of liability coverage, there are numerous other types of car insurance that may be added as options to your policy. Here are the most common:
Collision Insurance – this is meant to cover damage to your vehicle resulting from a collision with another vehicle. It may help pay toward repair or replacement of your car.
Comprehensive Insurance – this is designed to pay toward losses from events other than collision with other vehicles such as fire, theft, vandalism, weather events, collisions with animals and more.
Uninsured Motorist Insurance – protects you from loss in accidents caused by an uninsured driver or hit-and-run driver.
Underinsured Motorist Insurance – helps protect you from losses from an accident caused by a driver whose insurance is insufficient to cover your losses.
Personal Injury Protection (PIP) – may help cover medical expenses and loss of income resulting from a covered accident.
Medical Payments Coverage (Med Pay) – may help pay medical expenses resulting from a covered accident for both you and your passengers, regardless of fault. May also help pay funeral expenses.
Towing Insurance – can be added to your comprehensive coverage to help reimburse towing charges.
Rental Reimbursement Insurance – helps pay the cost of a car rental if you are unable to drive your own car after an accident.
The above-mentioned car insurance coverage types are all optional as basic liability policy add-ons. Knowing how each works is important in designing a policy that's right for you.