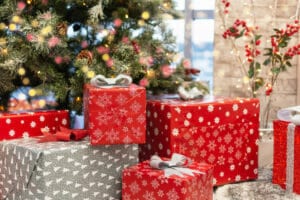 Holiday season is upon us and, for many, the holidays mean gift-giving time. It's also a good time to talk about your insurance coverage, since the valuables you may be giving or receiving may be treated by your homeowners insurance in different ways. You may want to take the time to review your homeowners insurance policy with your holiday gifts in mind, looking specifically for what's covered, for how much, and what you can do to increase coverage where needed.
A Word About Your Car Insurance
Let's say you're out and about shopping for Christmas gifts and, when you get back to your car, find that it's been broken into and your Christmas packages have been stolen. You might automatically suppose that you could make a claim on your car insurance policy for any losses suffered in the theft. The fact is, while your car insurance may pay on a claim resulting from the damage to your car caused by the break-in (if you have comprehensive coverage), losses suffered from the stolen items should be claimed on your homeowners insurance policy.
Homeowners Insurance
While homeowners insurance policies may have slight differences from one to the other, they all share certain sections that are similar or the same. These include Coverage C – Personal Property.
The Insurance Information Institute (III) provides a sample HO3 homeowners policy that you can click here to find.
Coverage C – Personal Property is listed on page 3 (on HO-3 link above) and includes explanations of what property is covered, limitations of your property at other residences, special limits and what property is not covered.
This is the part of your policy that covers your holiday gifts that become destroyed, lost or stolen. You'll notice your personal property is covered "anywhere in the world," so if  your wristwatch is stolen from  a hotel while vacationing or suffer a theft of holiday gifts from your car, you're covered.
Limits
Most sections of a homeowners insurance policy have limits that cap amounts that may be paid on certain claims. Personal property limitations are stated on the declarations page of your policy and are generally figured on a specific percentage of your dwelling coverage limitation. Special limits of liability apply to specific items such as jewelry, cash, firearms and more. Read the sample policy for examples. These limits are modest, but you're able to increase limits by adding a rider or special endorsement.