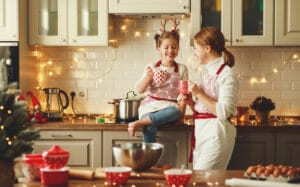 Each year around this time we like to share a list of holiday home safety tips with our growing circle of friends. This year, personal safety is especially important in view of the ongoing Covid-19 pandemic occurring around the world. At the top of the list of holiday home safety tips this year are things you've likely already heard hundreds of times:
Wear a mask
Socially distance
Avoid meeting in large groups
Wash your hands regularly
Holiday Home Safety Tips
Here's a list of 10 more important holiday home safety tips to consider for this holiday season. Several are recommended by the NFPA (National Fire Protection Association).
The U.S. Fire Administration reports that December is the most dangerous month for having home electrical fires. Many of these fires can be traced back to faulty or improperly installed Christmas lights. Consider these tips:
Closely inspect your electric decorations. Discard if you find any bare or loose wires, cracked sockets or loose connections. Consider switching from incandescent to LED lighting, which burns much cooler and consumes significantly less electricity.
Don't overload outlets, plugging in no more than one high-watt appliance into each, and never string more than three sets of lights together.
Check all electric decorations for labels and use only items bearing certification from an independent laboratory such as UL.
Turn off, unplug, extinguish or disconnect all lights and decorations before leaving the house unoccupied or retiring at night.
Make sure you have good coverage with a sufficient number of smoke detectors. Ensure they are all in good working order.
Maintain freshness in your Christmas tree by watering daily.
The NFPA claims that candles start about half of all decoration fires. They recommend using battery-operated candles.
Make sure your wrapped gifts are out of sight from windows.
According to the NFPA, unattended cooking is the leading cause of kitchen fires. When something's cooking, it must be attended.
If you're planning to travel during the holidays, don't advertise your travel plans online or on social media. This will help prevent would-be burglars from knowing when your home will be unoccupied. Notify a close neighbor that you'll be out of town and ask them to pick up your mail and newspapers. Try to make your home look lived in by using things like timers on inside lights, motion-sensitive outdoor lights and a timer for turning the TV set on/off at appropriate times.