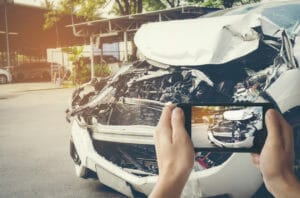 One of a driver's worst nightmares has to be when they're involved in a collision and their vehicle is deemed a total loss, or what's known as "totaled." If you've ever had a serious accident – serious enough to leave your car totally wrecked – thank your lucky stars if you escaped without serious injury. Automobiles today are built to withstand a great amount of damage while keeping occupants safe, and that's a good thing. Consider the days before seat belts became mandatory and before front and side airbags were available.
Greensboro Car Insurance Coverage
A "totaled" vehicle is one that is considered by your insurance company to be a total loss. Different insurers have different ways of defining a total loss, and if you look at your specific Greensboro car insurance policy you should find an outline of your insurer's limits to repair costs, options regarding whether parts are repaired or replaced and what, to them, constitutes a total loss.
In some states, including North Carolina, a vehicle is considered to be a total loss when the estimated cost of repairs exceeds 75% of the actual cash value (ACV) of the vehicle in question. There are a number of factors that come into play in determining the ACV, including:
Age
Condition
Mileage
Salvage value
Collision and Comprehensive Coverage
In North Carolina, all vehicles driven on public roads are required by law to have a minimum amount of liability insurance. If you own your vehicle outright, the purchase of collision and/or comprehensive coverage is an option. If you're leasing or financing your vehicle, however, the purchase of collision and comprehensive coverage is likely required by your leasing or finance provider.
It's one of these two insurance coverages that will come into play should you be unfortunate enough to "total" your vehicle. Collision coverage will help pay if it's totaled in a collision and comprehensive coverage pays if it's totaled in a non-collision scenario. This could include something like a large tree falling on your vehicle or a fire that totally destroys it.
Without the necessary coverage, you'll be unable to make a valid claim and your loss will have to come out of your own pocket. With the proper coverage, your insurer should pay the agreed upon amount, up to your policy limits, minus your deductible. Contact your insurer ASAP after your loss. They'll determine if the loss is total.