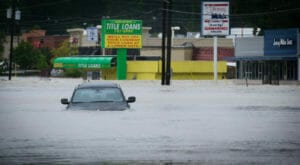 With the recent spate of flooding affecting people all over, you may have wondered whether your Greensboro auto insurance policy would cover your vehicle in the event that it became damaged in a flood. Just as with home insurance coverage, the simple answer is, "YES" you're covered for flood damage if you have the correct type of insurance in force. For homeowners, this means obtaining special flood insurance for your home through FEMA's National Flood Insurance Program. For vehicle owner's, this means making sure your car insurance is of the comprehensive type.
Liability Car Insurance
Here in North Carolina, the state requires that every vehicle being driven on public roads be covered by at least a minimum amount of car insurance. Only liability coverage is required, although many other types of coverage are also available. Vehicle liability insurance protects third parties that suffer losses from a car accident determined to be your fault. It pays toward medical costs and loss or damage of property up to the limits stated in the policy, but won't pay a penny toward your own losses. As such, if you elect to carry only the minimum car insurance required by the state you will have zero protection in the event that your vehicle is damaged as the result of a flood.
Additional, Optional Insurance Coverage
Types of car insurance that provide protection over and above simple liability coverage include:
Collision – pays to fix or replace your vehicle when damaged in a collision
Med Pay (Medical Payments)  – pays toward medical expenses incurred as the result of an auto accident, regardless of who's to blame. Covers policyholder, household members and passengers
Uninsured/under-insured motorist coverage – pays for losses suffered in an accident not your fault but where the driver at fault is either uninsured or under-insured
Comprehensive coverage – pays for damage or losses to your vehicle from events other than a collision. This includes things like theft, vandalism, falling trees or other debris and natural disasters. This is the type of insurance you'd be required to have in force to get reimbursement for flood damage
Coverage Required By Most Lenders
Be advised that car owners who have financed their vehicle may be required by their lender to carry both collision and comprehensive coverage as a way of protecting their financial interest in the car. This constitutes all-around coverage, should anything happen to the car.