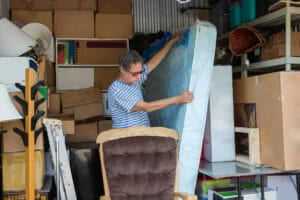 If you're the holder of a Greensboro renter's insurance policy and are unsure of whether that coverage extends to property kept within your outside storage unit, you'll be happy to know you DO have a certain amount of protection. Your personal property is actually covered worldwide against certain perils. Renter's policies, however, have a cap as to how much they will pay for your personal property kept in a location other than your rental residence.
What a Typical Greensboro Renter's Insurance Policy Includes
While a renter's insurance policy has no coverage pertaining to the physical structure you're renting, it's very similar to a homeowner's policy in most other aspects. It covers your personal possessions against a list of named perils such as fire, lightning, hail and windstorm, but only if the wind, rain or hail has first damaged the walls/roof of the structure enough to let the weather in. There's a long list of other covered perils including theft or attempted theft, vandalism /malicious mischief, smoke, explosion, falling objects and more.
For coverage applying to your personal items kept in a storage unit, protection from the same named perils applies. Limitation on the amount of a payable claim is typically capped at 10% of the total amount of coverage being carried on your personal property. In other words, if your total coverage amount for your personal possessions is $30,000. and you make a claim for a loss occurring to the property in your storage unit (or anywhere else off-site from your residence), the maximum amount you're eligible to receive is $3,000, minus your deductible.
Other Claims Payment Limitations
In addition to the 10% limitation cap discussed above, there are typically a variety of other limitation caps on items such as:
Money, bank notes, coins and bullion
Property used for business
Trading cards
Stamp collections
Manuscripts
Watercraft, including trailers, furnishings, boat motors, parts and equipment
Jewelry, watches, precious metals and gems
Firearms
Silverware, goldware and pewterware
Rugs or tapestries
Other Coverage
Other coverage commonly offered on a renter's insurance policy, similar to what's found in a homeowner's policy, includes family liability coverage, credit card theft or unauthorized use protection and additional living expenses coverage. Each of these also come with their own limitation caps.
When you add up all the provisions a Greensboro renter's insurance policy provides, and consider the low cost, this represents one of the best insurance values available.