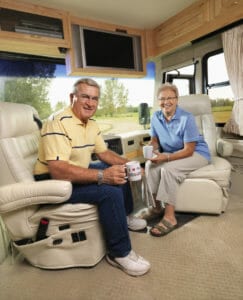 If you're an RV owner, RV insurance isn't an option, but that doesn't mean it has to be a huge expense. Having the right RV insurance policy with the right limits and correct options can help you maintain a good level of protection while saving you money at the same time. Here are some ideas to consider:
Be Willing to Make Changes – the most likely periods for saving money on your RV insurance is during those times when you're not driving your rig on the road. If you're carrying optional coverages like towing or substitute transportation, these probably aren't needed while your RV isn't being used.
You may also consider limiting the amount of liability and collision coverage you're carrying on an RV not being currently used. You will, however, want to keep your rig covered by comprehensive insurance. This provides protection against things such as fire, theft, vandalism, broken glass and other covered threats, losses or damages.
Carry The Right Level of Protection – rather than selecting a random amount of coverage for your RV, make sure your policy is written to measure up to your specific needs. You'll want to consider the real value of the vehicle itself and all of the personal possessions and assets kept on board. Consider replacement cost rather than actual value.
Consider Raising Your Deductible – the deductible amount on your RV, which is the amount that you must pay toward any covered claim before your insurer pays their share, can be raised, which in turn will lower your premium amount. The idea is to only raise your deductible to an amount that you'll be able to pay if the need arises.
What You Change Can Be Changed Back
Dropping coverages like towing and substitute transportation can make sense if your RV is in storage or parked and locked up tight for the winter months. Before the new RV driving season arrives, however, you'll need to change back to the way it was.
The same goes for your lower liability protection and collision coverage. You'll want to raise both of these back to their previous amount. If you carry only the minimum amount of liability required by the state, you might consider raising this to a more realistic amount. The state-mandated minimums are woefully low in the area of liability. In most accidents, these limits would be quickly surpassed.