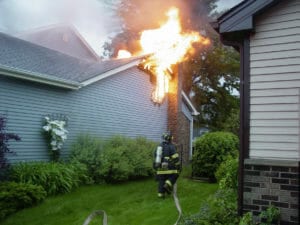 Buying Greensboro homeowners insurance can be a somewhat confusing proposition for the uninitiated because of the number of different types of homeowners policies from which to choose. You also have the option of designing your own custom coverage, leaving even more choices to make. The easiest and most logical method for choosing your Greensboro homeowners insurance is to enlist the support of a trusted broker who will be able to shop for you and present you with several different options tailored to meet your specific insurance needs.
Whether you're buying Greensboro homeowners insurance for a single family house, an apartment, a condominium, a vacation home often left empty, a mobile home, a property used as a rental or even a houseboat, there's a policy out there for you. Finding the right policy and at the right price is your objective.
What Threats Do You Want To Cover?
Most homeowners insuring a home that's been purchased with the use of financing will simply follow the requirements of their lender and buy a standard HO3 policy with a limit high enough to cover the lender's investment if the property should be totally destroyed by a covered peril. A more prudent strategy, however, would be to buy a policy with limits high enough to completely rebuild the home at today's prices if it gets completely destroyed.
Standard homeowners insurance policies are either "named perils" policies, "open perils" policies or a combination of the two. Named perils are threats that can happen to cause a loss that are listed, item by item, in the policy contract. Open perils coverage are threats that are automatically covered unless specifically excluded in the policy contract. Combination policies, such as with the HO3 coverage, are open perils coverage for losses related to your structure and named perils for your personal items and home contents.
What's Covered and What's Not
A standard HO3 policy typically has about 16 perils covered in the named perils portion such as fire, smoke, windstorms, theft, vandalism, freezing, etc. See here for a full listing.
The list of perils not covered by standard homeowners insurance policies can change from one insurer to another, but there are certain exceptions that are common to most. The two most important exceptions include earthquakes and floods. Additional coverage, however, can be added to protect against losses from these two perils.